Contestant Info
The Cloverdale Rodeo is proud to host ninety-six (96) of the world's best cowboys and cowgirls in an unique Invitational Rodeo Format that ensures the sports premier athletes are showcased throughout five (5) Rodeo performances.
For 2019, the Cloverdale Invitational Rodeo will feature Roughstock Rodeo Events (Bareback, Saddle Bronc, Bull Riding) & Ladies Barrel Racing. Twenty-four (24) rodeo contestants compete in each of the rodeo events. The 2018 Cloverdale Invitational Rodeo Champions & 2018 Canadian Rodeo Champions are invited.
Five Rodeo Performances with Finals:
Friday, May 17 – 7:30 pm (Pool A)
Saturday, May 18 – 2:30 pm (Pool A)
Saturday, May 18 – 7:30 pm (Pool B)
Sunday, May 19 – 2:30 pm (Pool B)
Monday, May 20 – 2:30 pm (Rodeo Finals)
Rodeo Operations:
James (Jamie) Rogers – Administrator Rodeo Affairs
604.576.9461 ext:916
jrogers@cloverdalerodeo.com
Cloverdale Rodeo Contestant Parking & Stabling ONLY – no exceptions.  Rodeo Contestants Stabling is limited to TWO (2) horses per entry only.  Parking & Stabling Lot – Opens Thursday, May 16th @ 1:00pm.  Enter off 64th Avenue & 176th Street – next to Cloverdale Horseshoe Club.
2019 Cloverdale Invitational Rodeo Officials
Rodeo Committee Chairman:

Rich Kitos

Lead Stock Contractors:

Kesler Rodeo & Kesler Championship Rodeo

Sub-Stock Contractors:

Flying 5 Rodeo & Big Bend Rodeo

Rodeo Office Secretary:

Judy Kesler

Rodeo Office Assistant Secretary:

Berva Dawn Kesler

Rodeo Judges:

Lynn Smith, Terry Cooke & Bernie Rivet

Rodeo Announcer:

Bob Tallman

Stetson Bowl Announcer

: Rod MacBeth

Rodeo Replay Screen:

SuperVision

Rodeo Chute Boss:

Coy Huffman

Rodeo Clown & Barrel Man:

Ricky Ticky Wanchuk

Rodeo Bullfighters:

Bo Byrne, Brett Monea & Scott Waye

Rodeo Timers:

Berva Dawn Kesler & Margo Kesler

Sound & Music:

Kurtis Kesler

Rodeo Live Entertainment:

Recording Artist – Jada McKenzie Moore

Rodeo Grand Entry Team:

Bit-A-Bling Drill Team

Sports Medicine Officials:

Canadian Pro Rodeo Sports Medicine Team

Media & Public Relations:

Laura Ballance Media Group-LBMG

Rodeo Live Stream Broadcast:

The Wrangler Network
Contestant List
2019 Cloverdale Invitational Rodeo
A & B Pools – subject to change
Bareback Riding
Pool A
Caleb Bennett, Tremonton, UT
Ty Taypotat, Regina, SK
Clint Laye, Pocatello, ID
Jake Vold, Ponoka, AB
Connor Hamilton, Calgary, AB
Ky Marshall, Bowden, AB
Richie Champion, Woodland, TX
Tanner Aus, Granite Falls, MN
Tristan Hansen, Dillon, MT
Zach Hibler, Wheeler, TX
Ty Breuer, Mandan, ND
Shawn Perkins, Bozeman, MT
Pool B
Leighton Berry, Weatherford, TX
Troy Vaira, Culvertson, MT
Marvin Alderman, Idabel, OK
Orin Larsen, Gering, NE
Jessy Davis, Power, MT
Pascal Isabelle, Okotoks, AB
Spur Lacasse, Calgary, AB
Jacob Stemo, Bashaw, AB
Kash Wilson, Gooding, ID
David Peebles, Redmond, OR
Colin Adams, Deloraine, MB
Gavin Derose, Kamloops, BC
Bull Riding
Pool A
Wacey Finkbeiner, Medicine Hat, A
Jared Parsonage, Maple Creek, SK
Brodie Yeri, Brock, TX
Garrett Smith, Rexburg, ID
Guy Nordahl, Huntley, MT
Josh Frost, Randlett, UT
Dallyn Duncan, Roosevelt, UT
Austin Nash, Eckville, AB
Todd Chotowetz, Strathmore, AB
Thor Hoefer, Spirit Lake, ID
Ardie Maier, Timber Lake, SD
Stetson Wright, Milford, UT
Pool B
Jordan Hansen, Ponoka, AB
Chase Dougherty, Canby, OR
Clayton Sellers, Fruitland Park, FL
Brady Portenier, Caldwell, ID
Parker McCowan, Montgomery, TX
Garrett Green, Meeting Creek, AB
Jacob Gardner, Dawson Creek, BC
Tim Lipsett,Regina, SK
Cody Coverchuk, Meadow Lake, SK
Rugar Piva, Dillon, MT
Rylan Wright, Midway, UT
Sage Kimzey, Strong City, OK
Ladies Barrel Racing
Pool A
Mariah Mannering, Quesnel, BC
Lisa Anderson, Bozeman, MT
Callahan Crossley, Hermiston, OR
Jordan Minor, Hermiston, OR
Angela Ganter, Abelene, TX
Jackie Ganter, Abelene, TX
Jessica Leech, Rockwell, NE
Rachel Tiedeman, Buffalo, WY
Sydney Daines, Innisfail, AB
Carmen Pozzobon, Savona, BC
Kylie Whiteside, Longview, AB
Shaylee McMann, Donalda, AB
Pool B
Mary Walker, Ennis, TX
Kaylee Galleno, Wall, SD
Britta Thiel, Belle Fouche, SD
Kali Parker, Wendell, ID
Jamie Gee, Smith, NV
Jade Crossley, Hermiston, OR
Taylor Manning,  Yellowhead Country, AB
Rene LeClercq, Holden, AB
Jennifer Barrett, Buhl, ID
Nikki Hansen, Dickinson, ND
Shelby Spielman, Del Hart, TX
Brady Whiteside, Longview, AB
Saddle Bronc Riding
Pool A
Rusty Wright, Milford, UT
Stetson Wright, Milford, UT
Zeke Thurston, Big Valley, AB
Chase Brooks, DeerLodge, MT
Tyrel Larsen, Inglis, MB
Cole Elshere, Faith, SD
Jake Watson, Hudson Hope, BC
Layton Green, Meeting Creek, AB
Logan Hay, Wildwood, AB
Isaac Diaz, Desdemona, TX
Preston Burr, Stratford, TX
Ben Anderson, Eckville, AB
Pool B
Ryder Wright, Milford, UT
Joe Lufkin, Salisaw, OK
Dawson Hay, Wildwood, AB
Mitch Pollock, Winnemucca, NV
Kolby Wanchuk, Sherwood Park, AB
Sam Kelts, Millarville, AB
Dustin Flundra, Pincher Creek, AB
Jessie Wright, Milford, UT
Toby Collins, Stephenville, TX
Justin Berg, Camrose, AB
Lane Cust, Sylvan Lake, AB
Bradley Harter, Loranger, LA  
Tickets Available Now
Save by ordering tickets online now. Kids 12 and under are FREE for Gate and Rodeo Performance.
Caleb Bennett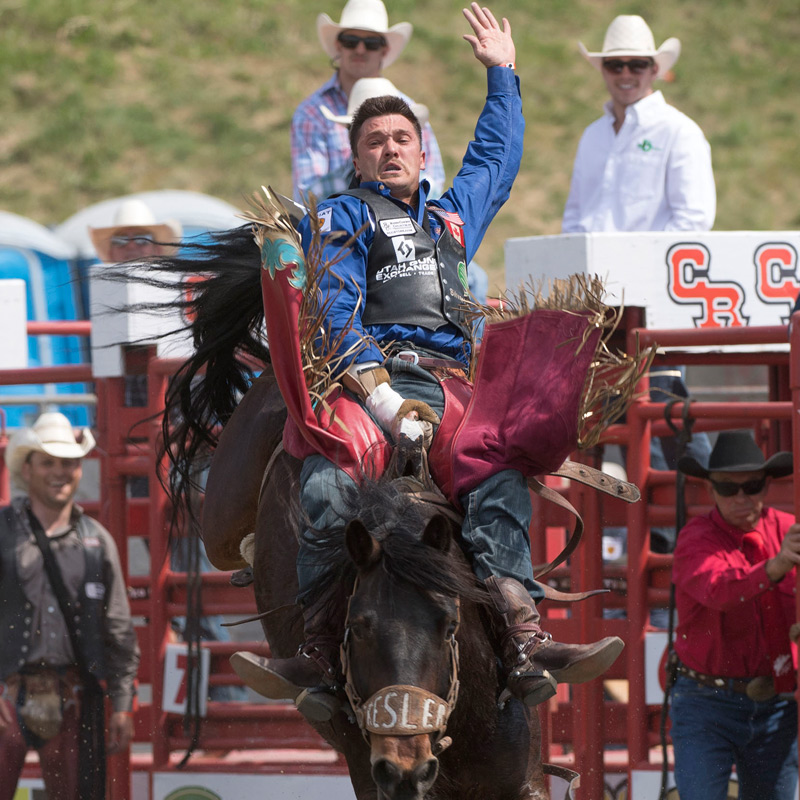 2018 Bareback Riding Champion
Callahan Crossley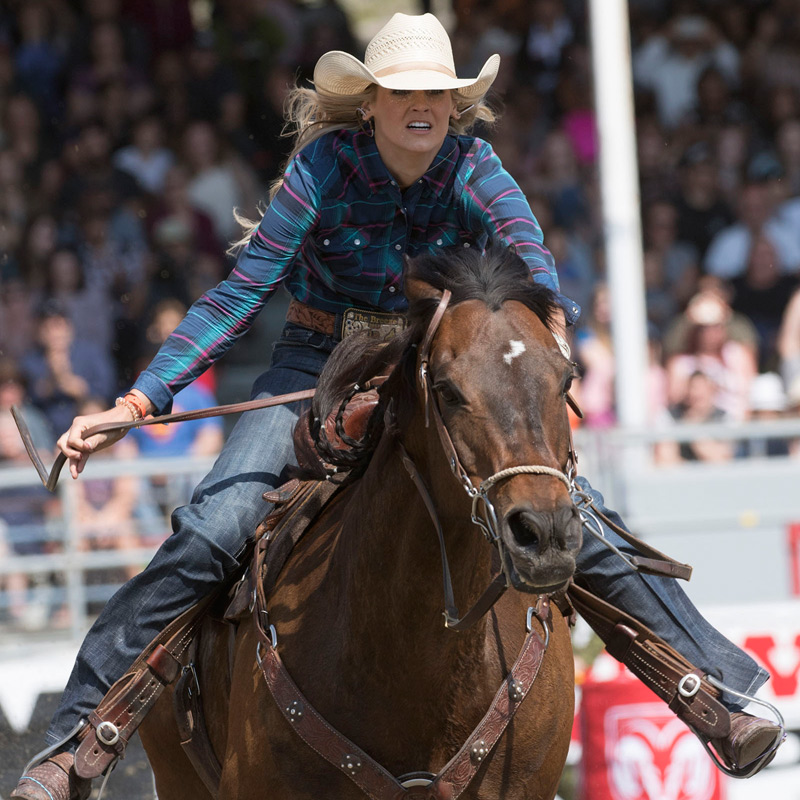 2018 Ladies Barrel Racing Champion
Toby Collins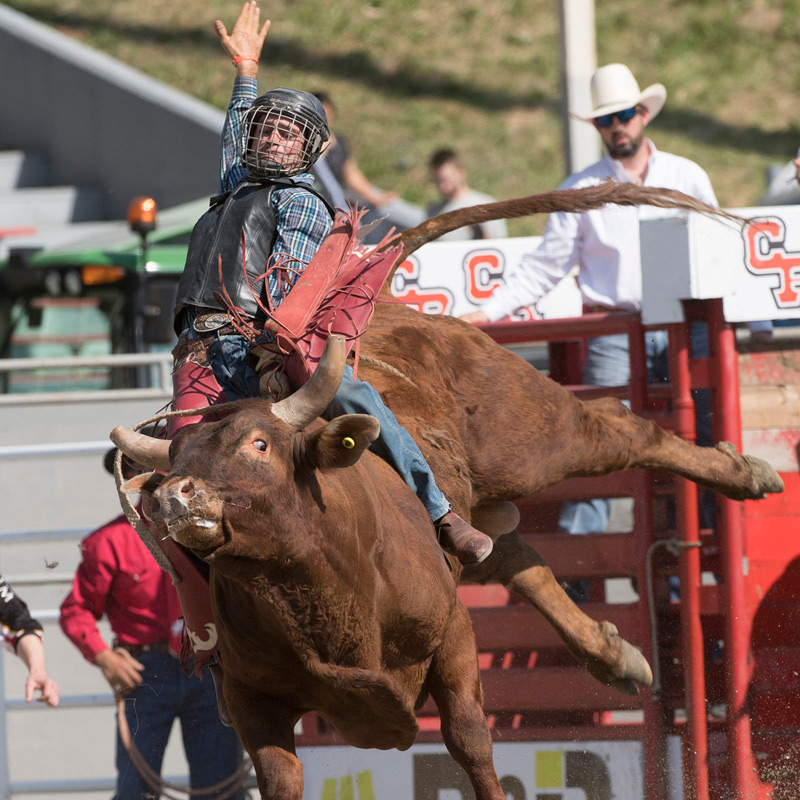 2018 Bull Riding Champion
Zeke Thurston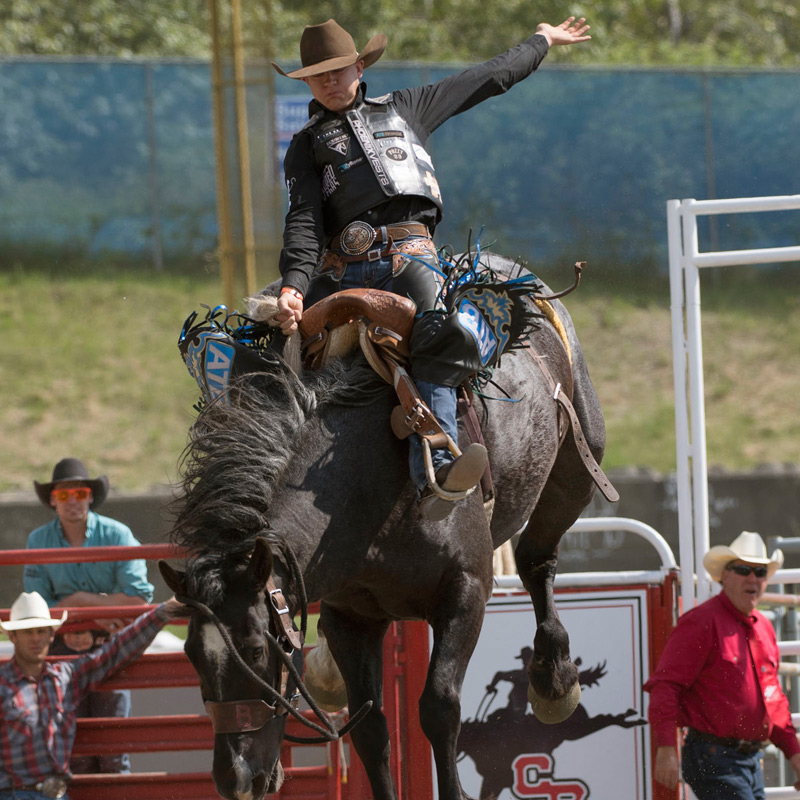 2018 Saddle Bronc Champion