We are Rounding-Up the top pro and amateur freestyle skateboarders from around the world to compete at the seventh annual  WORLD FREESTYLE ROUND-UP for a chance to win part of the $10,000 in Prize Money.  The four day event will be held at the CLOVERDALE RODEO & COUNTRY FAIR, just 25 miles east of Vancouver, British Columbia, Canada, from May, 18 to 21, 2018. Over 77,000 people attended the annual Rodeo and Fair last year making this an ideal high profile location for this contest.
The World Freestyle Round-Up will once again take place inside the Cloverdale Curling Rink on the Cloverdale Fair Grounds.  The building will be changed into an arena setting featuring a 80 foot by 140 foot flawless concrete floor that is ideal for flatland freestyle skateboarding.  Each day there will be several shows featuring freestyle demos and contests using a Battle Format making it more interesting for the riders and audience as well.  Several skaters will compete as a group each going one by one preforming a routine with an announcer and DJ spinning tunes to keep the crowd and skaters pumped.  This years' contest is hosted by the Cloverdale Rodeo & Country Fair and co-sponsored by RAD Skate Society, Pro-Tec Helmets, Henry Candioti SKATE-4-FUN, Powell & Peralta, Skull Skates, Sector 9, Momentum Wheels, Bones Swiss Bearings, Protest Skateboards, Thor Media, Concrete Wave Magazine, Suavecito Pomade, Sasquatch Sign Company, Ultimate Skateboard Distributors, and The Scaffold Depot.
Contest producers Kevin Harris and Monty Little have one goal in mind.  To create the world's most exciting freestyle skateboard contest, making it an annual event at the Cloverdale Rodeo & Country Fair.  What the X-Games did for Vert, and Slam City Jam did for Street, we hope the World Freestyle Round-Up will do for Freestyle, leaving the contestants and the audience wanting more and eagerly anticipating coming to next year's event.  We invite you to watch this exciting contest trailer highlighting the previous World Round-Up's produced by Brett Novak the creative mind behind the stunning Kilian Martin YouTube videos.
2018 Schedule of Events
Friday, May 18
4pm – 5:30 pm
Amateurs' Freestyle Qualifiers
5:30pm – 7 pm
Pros' Freestyle Qualifiers
Saturday, May 19
11:30 am – 12 pm
Amateurs' Practice Session
12 pm – 2 pm
Amateur Freestyle Semi Finals
3:30 pm – 4 pm
Pros' Practice Session
4 pm – 6 pm
Pro Freestyle Semi Finals
Sunday, May 20
10 am – 11 am
Amateurs' Practice Session
11 am – 1 pm
Amateur Freestyle Finals
2 pm – 3 pm
Pros' Practice Session
3 pm – 5 pm
Pro Freestyle Finals
5:30 pm – 6 pm
Award Ceremony
Monday, May 21
10 am – 11 am
Practice Session
11 am – 1 pm
360 Spin Off and Best Trick Contests
2 pm – 3 pm
Legends Freestyle Classic Practice Session and Finals
3 pm – 4 pm
Best Handstand Trick and Longest Coconut Wheelie Contests
4 pm – 5 pm
Freestyle Demos
2017 World Round-Up Results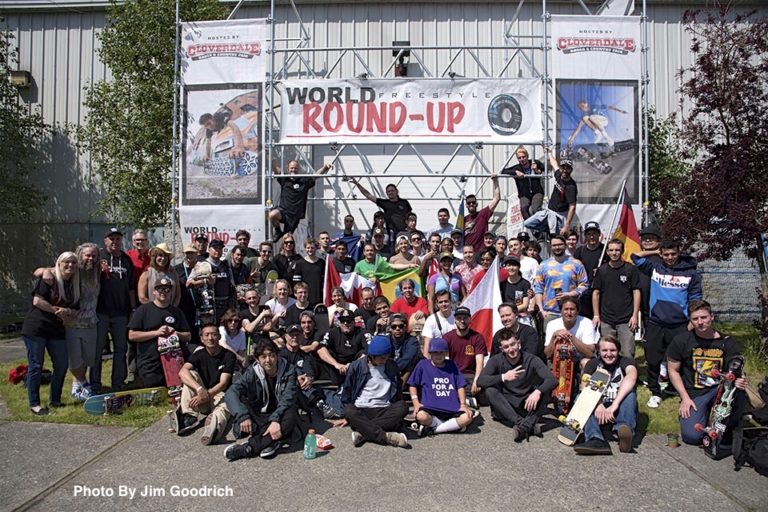 Top freestyle skateboarders from 13 countries, pictured above, came to the Cloverdale Rodeo and Country Fair to show off their 360 spins and other tricks and compete for $10,000 in prize money. Highlights of the 2017 contest are featured in this action packed You Tube Video produced by Alan Husejnagic of StarBeat – Social Talent Discovery.
AMATEUR DIVISION

Marcio Torres – Brazil
Ikkei Nagao – Japan
Yuzuki Kawasaki – Japan
Cristobal Bahamonde – Chile
Yuta Fujii – Japan
Dillanger Kane – Canada
Nick Beaulieu – USA
Josh Dunstone – Australia
Mirei Tsuchida – Japan
Andreas Tsougrianis – Canada
Eduardo Bandeira – Brazil
Brandon Ross – USA
Kristopher Abramovic – Canada
 Kanata Hayakawa – Japan
Rick McCrank – Canada
Riley Allen – Canada
Tyrone Williams – USA
Eric Lowery – USA
Daniel Trujillo – USA
Matt Smithies – England
Kyle Kraus – USA
Alex Foster – England
Jordan Sterling – Canada
CJ Maldonado – USA
Ricky Rodriguez – USA
LEGENDS FREESTYLE CLASSIC
David James Campbell – Canada
Ernani "Tai Tai" Craveiro – Brazil
Jay Mandarino – Canada
360 SPIN-OFF
Ryan Brynelson – Canada
BEST TRICK
Masahiro Fujii – Japan
BEST HANDSTAND TRICK
Dillanger Kane – Canada
PRO DIVISION

Isamu Yamamoto – Japan
Mike Osterman – USA
Guenter Mokulys – Germany
Andy Anderson – Canada
Pete Betti – USA
Stefan Lillis Akesson – Sweden
Diego Pires Afonso – Brazil
Satoshi Kanagawa – Japan
Reece Archibald – Scotland
Tony Gale – England
Toshiaki Fujii – Japan
Christian Heise – Germany
Lucio deLima – Canada
Daniel Garb – USA
Masahiro Fujii – Japan
Ryan Brynelson – Canada
Felix Jonsson – Sweden
Kaue Araujo – Brazil
 Toni Medina – Spain
Mitsuhiro Yasumoto – Japan
Shen Meng – China
Marius Constantin – Romania
Jacob Whitt – USA
Denham Hill – England
Lars Rothenstein – Germany
NOTE: Ties were broken by using the 2nd highest scoring runs.
AMBASSADORS OF FREESTYLE AWARD
Russ Howell – USA
HENRY CANDIOTI SKATE-4-FUN AWARD
Mike Osterman – USA
LONGEST COCONUT WHEELIE
Isamu Yamamoto – Japan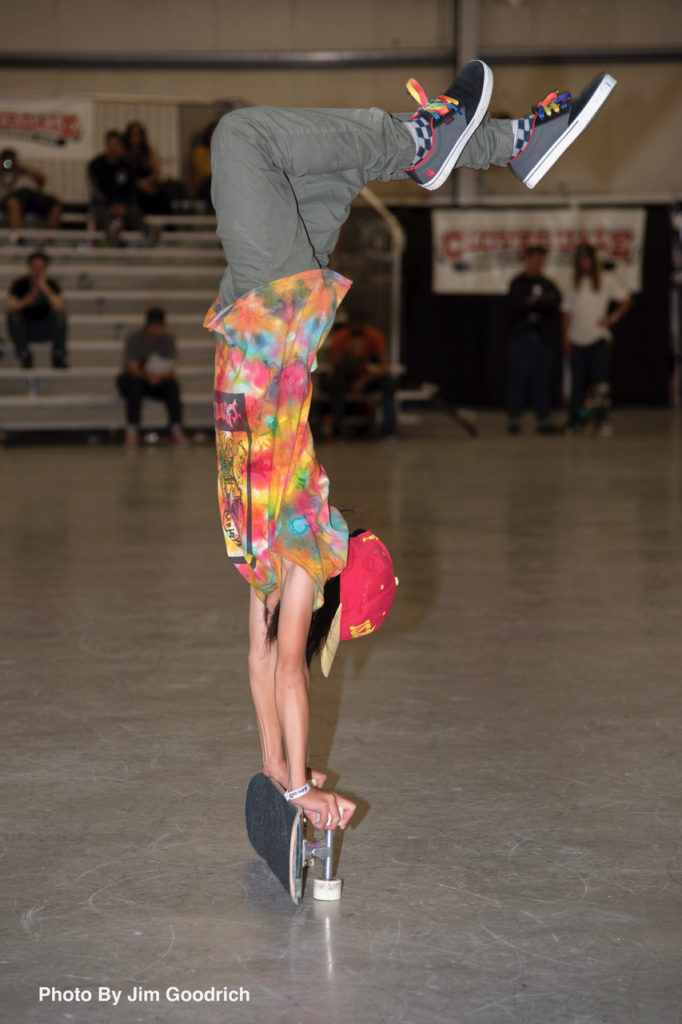 1st Place Pro Division
Isamu Yamamoto ( Japan )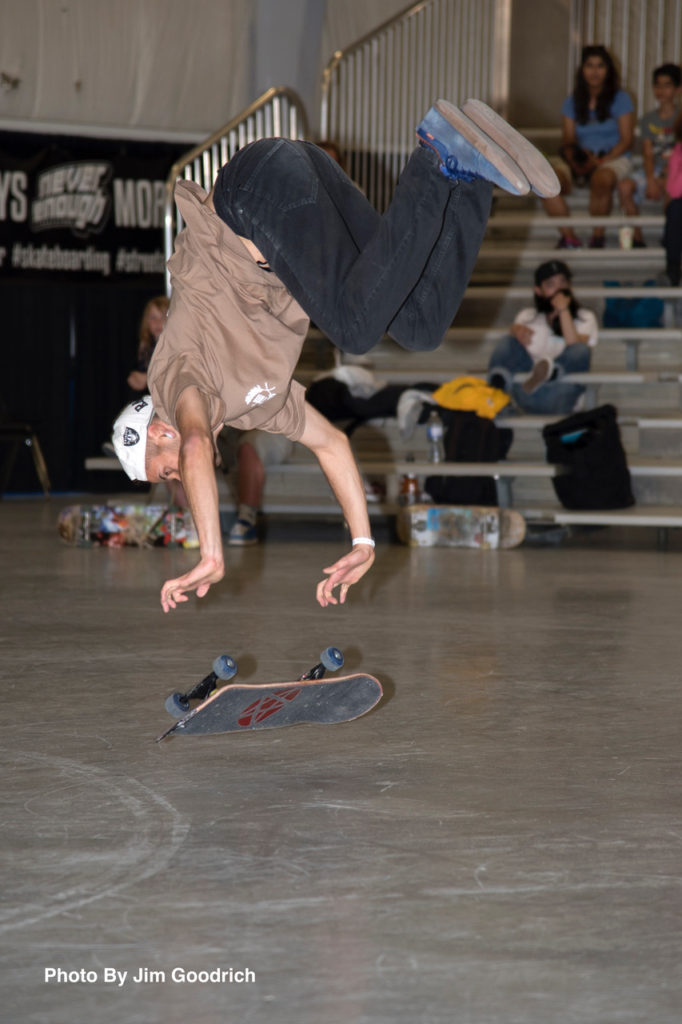 1st Place Amateur Division
Marcio Torres ( Brazil )