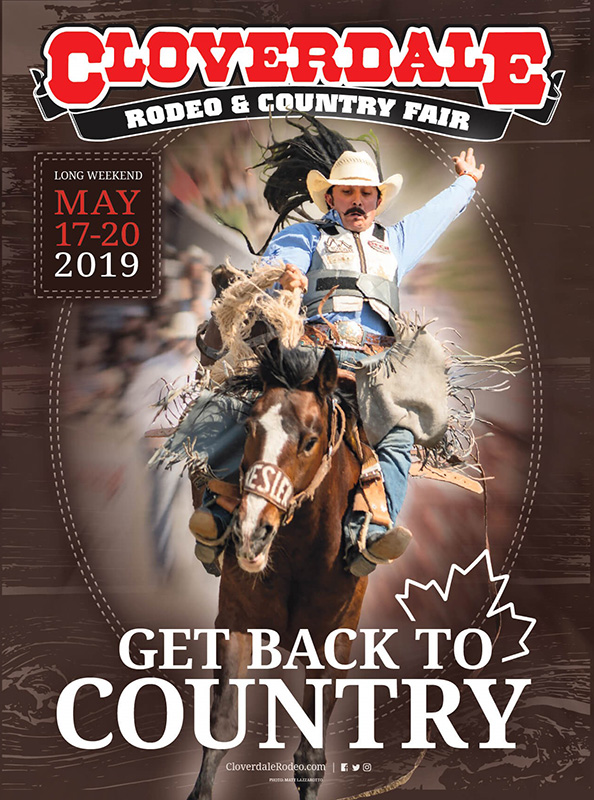 The Rodeo & Country Fair Returns May Long Weekend
One of North America's longest running and most entertaining rodeos returns for its 73rd year this May Long Weekend with more competitions, live entertainment food and fun for fans of all ages.
The Cloverdale Invitational Rodeo will once again feature the World's best Cowboys and Cowgirls as they compete for cash prizes in roughstock rodeo events like Saddle Bronc Riding, Bareback Riding and Bull Riding, as well as Ladies Barrel Racing.
Rodeo Performance Schedule
The Cloverdale Rodeo is proud to host ninety-six (96) of the world's best cowboys and cowgirls in an unique Invitational Rodeo Format that ensures the sports premier athletes are showcased throughout five (5) Rodeo performances.
For 2019, the Cloverdale Invitational Rodeo will feature Roughstock Rodeo Events (Bareback, Saddle Bronc, Bull Riding) & Ladies Barrel Racing. Twenty-four (24) rodeo contestants compete in each of the rodeo events. The 2018 Cloverdale Invitational Rodeo Champions & 2018 Canadian Rodeo Champions are invited.
2019 Rodeo Performance Schedule
Five Rodeo Performances with Finals
7:30 pm Friday – May 17th (POOL A)
2:30 pm Saturday – May 18th (POOL A)
7:30 pm Saturday – May 18th (POOL B)
2:30 pm Sunday – May 19th (POOL B)
2:30 pm Monday – May 20th (Rodeo Finals)
Rodeo event schedule for Friday, Saturday & Sunday performances
Bareback Riding
Ladies Barrel Racing
Specialty Act / Recording Artist – Jada McKenzie Moore
Saddle Bronc Riding
Mutton Bustin
Ladies Barrel Racing
Rodeo Clown Act
Bull Riding
Rodeo event schedule for Monday Finals
Bareback Riding / winner presentation
Specialty Act / Recording Artist – Jada McKenzie Moore
Saddle Bronc Riding / winner presentation
Rodeo Clown Act
Ladies Barrel Racing / winner presentation
Mutton Bustin
Corgi Races
Bull Riding / winner presentation
Caleb Bennett
2019 Bareback Riding Champion
Shelby Spielman
2019 Ladies Barrel Racing Champion
Sage Kimzey
2019 Bull Riding Champion
Mitch Pollock
2019 Saddle Bronc Champion
Saddle Up with 
Receive a Free Rodeo & Country Fair Ticket with the purchase of a Wrangler Jean and Shirt at one of the following retailers:
Stampede Tack & Western Wear
Cloverdale, BC
Otter Co-op
Aldergrove, BC
Country West Supply
Chilliwack, BC
The Mill Store
Chilliwack, BC
The Horse Barn
Kamloops, BC
The Cowboy Choice
Vernon, BC
Equine Emporium
Duncan, BC
Work N Play
Chilliwack, BC
Country West Supply
Armstrong, BC