Unfortunately, because of the worldwide Coronavirus Pandemic, the BC Government had to shut down all large gatherings such as the Cloverdale Rodeo & Country Fair. Likewise, the World Freestyle Round-Up contest for 2020 and 2021 had to be canceled.
Contest Producers Monty Little and Terry Chui decided that although the skaters could not come to Canada, they could compete through the internet. Last July, they organized the world's first Online Freestyle Skateboarding Video Contest, called the World Round-Up Online Showdown. With 110 skaters from 22 counties submitting their videos to be judged by a panel of 5 international judges, the contest was a huge success. Monty and Terry have already started work on the 2021 Online Showdown; details can be found on their website. www.theworldroundup.com

We are Rounding-Up the top pro and amateur freestyle skateboarders from around the world to compete at the eighth annual 
WORLD FREESTYLE ROUND-UP
 for a chance to win part of the $10,000 in Prize Money.  The four day event will be held at the 
CLOVERDALE RODEO & COUNTRY FAIR
, just 25 miles east of Vancouver, British Columbia, Canada, from May, 17 to 20, 2019. Over 77,000 people attended the annual Rodeo and Fair last year making this an ideal high profile location for this contest.
The World Freestyle Round-Up will once again take place inside the Cloverdale Curling Rink on the Cloverdale Fair Grounds.  The building will be changed into an arena setting featuring a 80 foot by 140 foot flawless concrete floor that is ideal for flatland freestyle skateboarding.  Each day there will be several shows featuring freestyle demos and contests using a Battle Format making it more interesting for the riders and audience as well.  Several skaters will compete as a group each going one by one preforming a routine with an announcer and DJ spinning tunes to keep the crowd and skaters pumped.  This years' contest is hosted by the Cloverdale Rodeo & Country Fair and co-sponsored by Powell & Peralta, Henry Candioti SKATE4FUN, ALLWEST Insurance, Sector 9, Momentum Wheels, Bones Swiss Bearings, Protest Skateboards, Thor Media, Suavecito Pomade, Sasquatch Sign Company, Pro-Tec Helmets, Newline Skateparks, Richmond Steel Recycling, The Scaffold Depot, Sunshine Valley Tashme Museum, VANS Off The Wall, Cloverdale Holiday Inn & Suites, GroupHEALTH, Replay Board Shop, Charcoal & Woodz, Kentwood Hardwood Floors, Cloverdale Better Improvement Association, Bogdonov Pao Associates Ltd, NU Dimensions and Sport Surrey.
Contest producers Kevin Harris and Monty Little have one goal in mind.  To create the world's most exciting freestyle skateboard contest, making it an annual event at the Cloverdale Rodeo & Country Fair.  What the X-Games did for Vert, and Slam City Jam did for Street, we hope the World Freestyle Round-Up will do for Freestyle, leaving the contestants and the audience wanting more and eagerly anticipating coming to next year's event.  We invite you to watch this exciting contest trailer highlighting the previous World Round-Up's produced by film maker Darryl Grogan who won the 2012 World Round-Up.
2019 Schedule of Events
Friday, May 17
4pm – 5:30 pm
Amateurs' Freestyle Qualifiers
5:30pm – 7 pm
Pros' Freestyle Qualifiers
Saturday, May 18
11:30 am – 12 pm
Amateurs' Practice Session
12 pm – 2 pm
Amateur Freestyle Semi Finals
3:30 pm – 4 pm
Pros' Practice Session
4 pm – 6 pm
Pro Freestyle Semi Finals
Sunday, May 19
10 am – 11 am
Amateurs' Practice Session
11 am – 1 pm
Amateur Freestyle Finals
2 pm – 3 pm
Pros' Practice Session
3 pm – 5 pm
Pro Freestyle Finals
5:30 pm – 6 pm
Award Ceremony
Monday, May 20
10 am – 11 am
Practice Session
11 am – 1 pm
360 Spin Off and Best Trick Contests
2 pm – 3 pm
Legends Freestyle Classic Practice Session and Finals
3 pm – 4 pm
Best Handstand Trick and Longest Coconut Wheelie Contests
4 pm – 5 pm
Freestyle Demos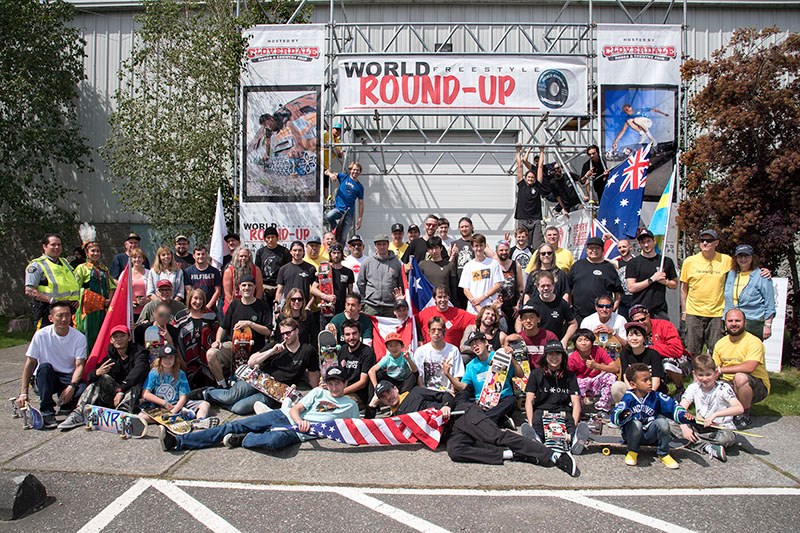 Top freestyle skateboarders from 10 countries, pictured above, came to the Cloverdale Rodeo and Country Fair this year to show off their 360 spins and other tricks and compete for $10,000 in prize money. Highlights of the 2017 contest are featured in this action packed You Tube Video produced by Alan Husejnagic of StarBeat – Social Talent Discovery.
2019 World Round-Up Results
AMATEUR DIVISION
1 – Cristobal Bahamonde – 271 – Chile
2 – Josh Dunstone – 269 – Australia
3 – Nick Beaulieu – 256 – USA
4 – Mirei Tsuchida – 248 – Japan
5 – John Sawyer – 227 – USA
6 – Jordan Sterling – 226 – Canada
7 – Andreas Tsougrianis – 224 – Canada
8 – Eric Lowery – 216 – USA
9 – Daniel Greschner – 214 – Germany
10 – Allen Handley – 212 – Canada
11 – Connor McCaughtrie – 203 – Canada
12 – Matt Phillips – 201 – Canada
13 – Phill Larin – Canada
14 – CJ Maldonado – USA
15 – Chadd Sinclair – Canada
16 – Adam Flood – Canada
17 – Ricky Rodriguez – USA
18 – Vaughn Johnson – USA
19 – Jade Kristensen – USA
NOTE: Ties were broken by using the skaters
2nd highest scoring runs.
LONGEST COCONUT WHEELIE
Yuta Fujii – 86 feet – Japan
HENRY CANDIOTI SKATE4FUN AWARD
Cristobal Bahamonde – Chile
AMBASSADORS OF FREESTYLE AWARD
Christian Heise – Germany
THE SPIRT OF THE ROUND-UP AWARD
Josh Dunstone – Australia
PRO DIVISION
1 – Isamu Yamamoto – 291 – Japan
2 – Yuzuki Kawasaki – 282 – Japan
3 – Mike Osterman – 279 – USA
4 – Jacob Whitt – 271 – USA
5 – Guenter Mokulys – 268 – Germany
6 – Ikkei Nagao – 267 – Japan
7 – Stefan Akesson – 264 – Sweden
8 – Yuta Fujii – 262 – Japan
9 – Masahiro Fujii – 258 – Japan
10 – Pete Betti – 258 – USA
11 – Felix Jonsson – 253 – Sweden
12 – Denham Hill – 253 – England
13 – Bert Mathieson – USA
14 – Sto Strouss – USA
15 – Kouhei Yamaguchi – Japan
16 – Lucio de Lima – Canada
17 – Christian Heise – Germany
18 – AJ Kohn – USA
19 – Michael Sterling – USA
20 – Zuou Junxiao – China
21 – Daniel Trujillo – USA
LEGENDS FREESTYLE CLASSIC
1 – Randy Lessard – Canada
2 – Jay Mandarino – Canada
3 – Ron Beaulieu – USA
360 SPIN OFF
Isamu Yamamoto – 30 – Japan
BEST TRICK
Isamu Yamamoto – Japan
BEST HANDSTAND
Isamu Yamamoto – Japan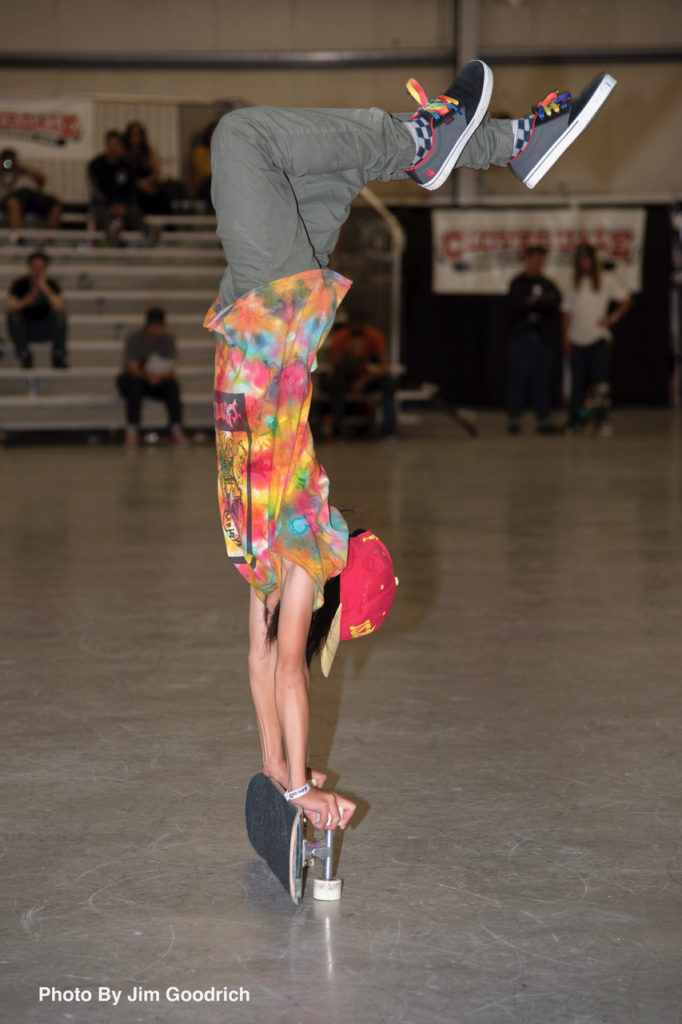 1st Place Pro Division
Isamu Yamamoto ( Japan )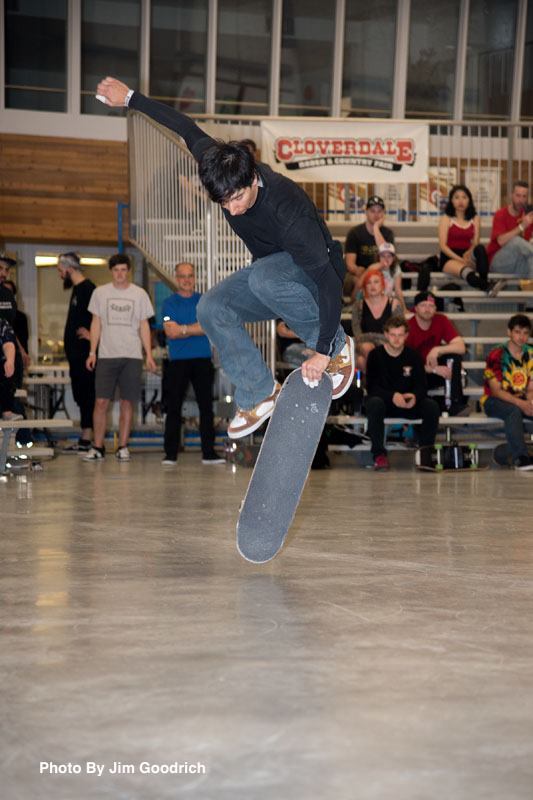 1st Place Amateur Division
Cristobal Bahamonde ( Chile )